A book of inspiring stories for the changemaker in all of us.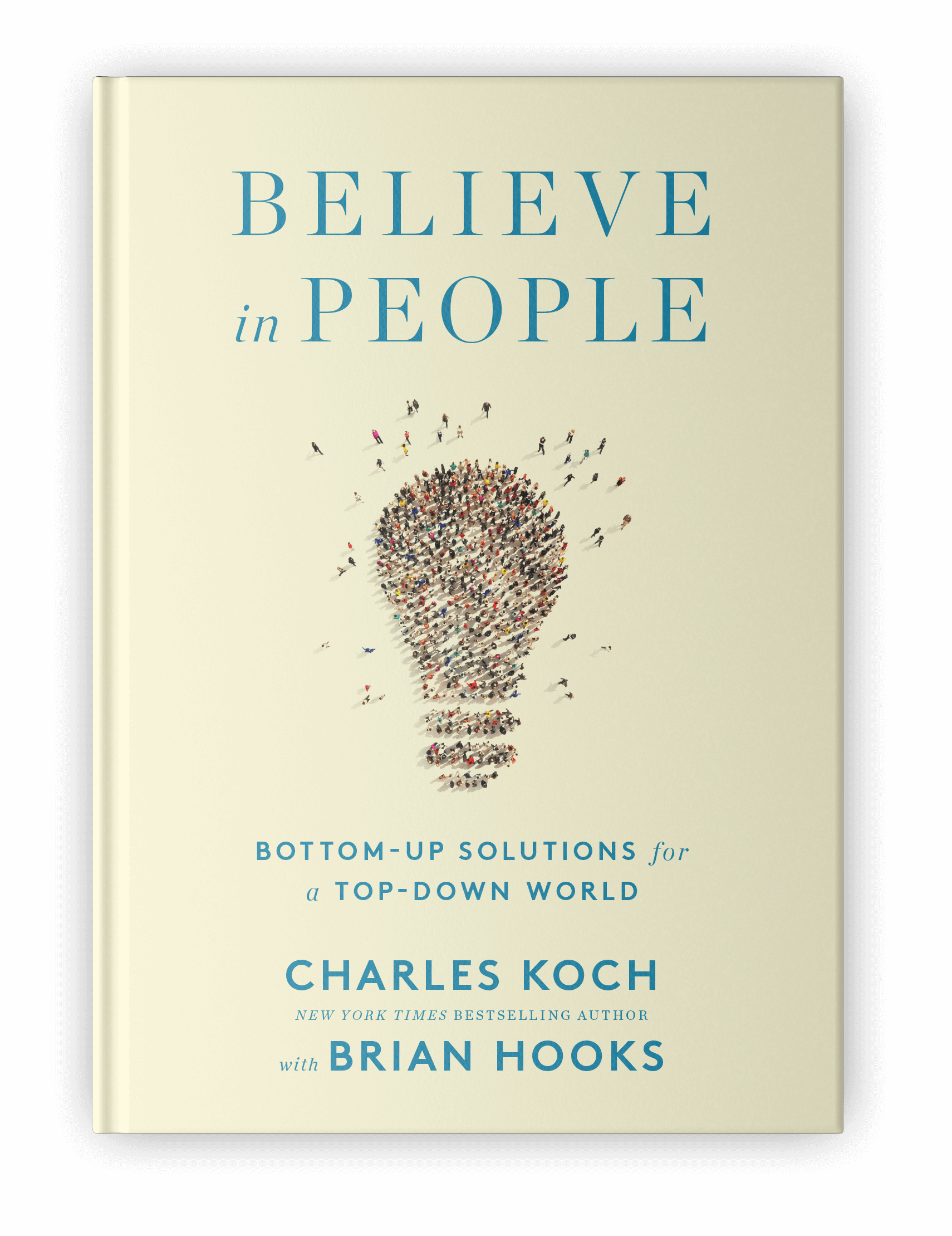 Believe in People is a book from New York Times bestselling author Charles Koch with Stand Together CEO Brian Hooks.
In Believe in People, Koch and Hooks weave together a collection of inspiring stories of individuals making change from the bottom up. The authors make a compelling case both for the empowerment of people as a means to solve our nation's greatest challenges and as a way to bring innovative thinking to institutions that have otherwise grown stale.
This book is sure to inspire you with stories and arm you with the wisdom of Mr. Koch, one of America's greatest businessmen, and Coauthor Brian Hooks, CEO of Stand Together,  as you bring your own change-making force to life in your community or even your own life. 
The solutions to making our world better are all around us. If we're willing to believe in people, empower them from the bottom-up, and unite with anybody to do right, we can work together to build a society where everyone can rise.
Purchase from any of these retailers
We believe so much in the potential of all people that when you order the book, we'll invest the full purchase price to amazing changemakers.
"Believe in People is a survival guide for the social entrepreneur in all of us–a manifesto for do-goodery–written by one of the greatest philanthropists to ever live."
Mike Rowe
Executive Producer, Host and CEO of the mikeroweWORKS Foundation
If you don't believe in people, what do you believe in? This is a provocative book for the moment. Highly recommended.
Ryan Holiday
#1 New York Times Bestselling Author of The Obstacle is the Way and The Daily Stoic
A book for anyone looking to make a difference by becoming the best version of themselves. This is the book the country needs right now to help unite people and make progress together.
Cortez Bryant
Co-CEO of Blueprint Group and COO of Young Money Entertainment
Believe in People is Charles Koch's most personal book, most substantive book, and best book, all wrapped up into one. Heartily recommended.
Tyler Cowen
Holbert L. Harris Chair in Economics and Chairman, Mercatus Center at George Mason University
A celebration of the inherent dignity of every person—and a roadmap to move society closer to that ideal...In these difficult and unpredictable times, Charles and Brian not only see an expansive and inclusive future, but illuminate the path to get there.
Jonathan Greenblatt
CEO, Anti-Defamation League
Forget everything you thought you knew about Charles Koch and read this book. Charles and Brian offer a clear path to success for anyone who wants to make a difference. An unrelenting picture of optimism that's a roadmap for solving our country's biggest problems.
marc andreessen
Co-founder and General Partner, Andreessen Horowitz
Charles Koch and Brian Hooks make the case for the greater power of social change driven by a diversity of every kind of perspective.
Alberto Ibargüen
President & CEO, John S. and James L. Knight Foundation
Believe in People is a wise, thoughtful, and optimistic book. At its heart, it is a book about listening—to the quiet voice inside of each of us that whispers truths about finding our highest calling and discovering our best selves. A timely and important read.
Dave Isay
Founder, StoryCorps
Believe in People is a historical road map of inspiring people to inspire others. WE all need a hero to follow and a game plan for success, awareness, and change. This is the DNA of who Charles Koch is! Lifting others when you rise.
Nancy Lieberman
Basketball Hall of Famer and Nancy Lieberman Charities Founder
Charles Koch's vision for a better America and his call to action for a new bottom-up movement make Believe in People a compelling and provocative read.
Michael Lomax
President & CEO, UNCF
Charles Koch's dismay about the crippling consequences of partisanship and the nostrums of politicians, businesspeople, and philanthropists is matched by his abiding faith in the way individuals can change our country for the better. Believe in People brims with the humility and humanity of a lifetime spent leading and learning.
Michael Moritz
Partner, Sequoia Capital
Finally, an argument for a free and open society that meets the challenges of our time, head on! Charles and Brian make a clear case for why the future depends on truly living up to our country's founding principles and, how by uniting with anyone to do right, we can empower every person to realize their potential.
Todd Rose
Former Director of the Mind, Brain, and Education Program, Harvard University & Co-founder and President, Populace
Read about many men and women who changed themselves, the lives they touched, and hence became part of a wave of lives changed. The book is summed up in Charles Koch's own words: "My North Star is a society in which every person can realize their potential."
Vernon Smith
Nobel Prize Winning Economist and George L. Argyros Endowed Chair in Finance and Economics, Chapman University
We all have something to offer and the message such as in this book can be the spark that changes lives. We all want to know how Charles Koch did it. The answer lies within these pages.
Suzanne Somers
Actor, Entrepreneur, Entertainer and New York Times Bestselling Author
Charles offers a roadmap for how we each can harness the power of entrepreneurship and individual contribution to build more resilient communities and find real solutions to many of the problems we confront in America today.
Tony Welters
Executive Chairman, BlackIvy Group and Chairman Emeritus, New York University School of Law
Charles Koch is chairman and CEO of Koch Industries, one of the largest privately held American companies. An influential philanthropist for more than 50 years, he supports education, a community of organizations addressing persistent poverty, and public policy research focused on developing effective solutions to societal problems. He has founded numerous nonprofit organizations, including Stand Together. He holds two master's degrees in nuclear and chemical engineering from MIT and lives in Wichita, Kansas, with his wife Liz.
Brian Hooks is chairman and CEO of Stand Together, a philanthropic community that works with more than 700 business leaders and philanthropists to empower people to realize their unique potential and help every person rise. He is also president of the Charles Koch Foundation and previously served as executive director and COO of the Mercatus Center at George Mason University. A graduate of the University of Michigan, he lives in Alexandria, Virginia, with his wife, Christine, and their daughter.
GET MORE INSPIRING CHANGEMAKER STORIES